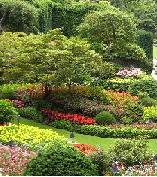 Glenmore Woods has been invited to participate in the Lake County Forest Preserve Tree and Shrub sale. Please see the Excel Spreadsheet Tree and Shrub Order Form. All the prices are estimates and include delivery. The Lake County Forest Preserve needs all orders by January 14, 2020. Payment is due at the time of delivery. Please email all order forms to Joe Sturonas (jasturon <at> gmail dot com), and we will send one order for all of Glenmore Woods. 
The order forms include a species list with some estimated costs per plant (LCFPD wholesale prices).  The highlighted species (in red) are ones that LCFPD would recommend for Glenmore Woods, as these are found elsewhere within the preserve and in similar habitats.  In general, 5-gallon material is ~2 feet tall; 15-gallon material is ~4 feet tall, and 1-inch trees are ~6 feet tall.   
LCFPD has had great success with these species, with annual survival rates of over 90% in areas that rarely get any follow-up.  LCFPD would expect even better results in Glenmore Woods if residents can provide some follow-up watering.