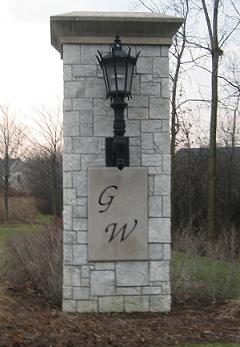 Glenmore Woods Homeowners Association held their third Homeowers Meeting on Monday November 19, 2012 at 7:00pm. The meeting was at the Mariani offices at 900 North Shore Drive, Lake Bluff, IL 60044. The meeting lasted 30 minutes. The minutes from the meeting follow.
Glenmore Woods Homeowners Association
Homeowners Meeting - November 19, 2012 7:00pm
900 North Shore Drive
Lake Bluff, IL 60044
Board Members: John Lucas, David Coughlin, Joe Sturonas
Homeowners: None Present
Mariani: Jay Cheeseman
Property Manager: Sarah McMaster
Existing Business
Update on gravel repair on the back path. Mariani will perform this in December 2012. They used grade 9 gravel, but will fill in with crushed limestone like exists on the forest preserve path. Every 5 years we will want to perform maintenance.
Mariani is going to put wreaths in the front entrance.
Mariani will be performing winter pruning in February.
Mariani understood it was a problem to do the fall fertilization while the leaves were still down. This will work to prevent this in the future.  
Follow Up Items from September Meeting: 

Buckthorn - Update regarding Ann Mains (Chairman of the Lake County Forest Preserve) to see if there is any assistance the Lake County Forest Preserve, Lake County or the State could provide to eradicate buckthorn from our neighborhood. (Frank Keres)
Update on clearing of quote of area 2 (attached aerial image) that includes painting and debris removal. (Sarah) Dave Story Bartlett Tree will propose and he can do the job from start to finish.
Update on quote from a site utility plumber to drain area 1 to the box culvert on Ashford drive that was disrupted with landscaping. (Sarah) There was no water because the fall was so dry, so there was nothing for the plumber to assess.  
Update on a civil engineering that can survey the property and let us know what we can and can't proceed with in a 15 year plan to improve and maintain the property, as well as ask a Village Trustee about the overall drainage/civil engineering plan. (Frank)
New Business
The fourth and last meeting for 2012 will be held at Sunday December 2, 2012 at 7:00pm at John Lucas' home.
Discussed and approval the 2013 budget for Glenmore Woods. Dave moved to approve and Joe seconded. Budget was approved.
Set the date for the 2013 AGM, which will be February 6, 2013 at the Mariani offices. 
Follow up on Street Conditions.; Contact at Green Oaks if there are any issues with snow removal.  
Mariani contract renewal for the next 3 years was discussed. David moved to approve, Joe Seconded. Marini contract was approved. 
The next mailing to homeowners will contain the update for the homeowners directory.