A Glenmore Woods Homeowners Meeting was held on Monday, August 10th, 2020 at 7:30 pm. The meeting was virtual over a conference bridge.
These meeting minutes have been approved by the HOA.
Glenmore Woods HOA Meeting, August 10, 2020 Agenda
Approval of the minutes from June 8, 2020 Meeting
Lake County Forest Preserve Grant Clearing Update
Glenmore Woods Resurfacing Update
Native Restoration Update
French Drain Update
Knollwood Drainage Update
Exterior Project Approval Process
Open forum
The date for the next meeting
Board Members: Sue Ebert, J.V. Proesel, Roy Ladd, Martin Caldwell, Joe Sturonas
Property Manager: Sarah McMaster
Homeowners: 11 present
Meeting commences at 7:30 pm
Approval of the minutes from June 8, 2020 Meeting
Motion By: Roy to approve the meeting minutes
Seconded By: Sue
In Favor: 5, Opposed: 0; Abstain: 0;
Lake County Forest Preserve Grant Clearing Update
2021: 3.7 Acres Total
2019: 11.3 Acres Total
Focus to remove all buckthorn and any dead trees
We prefer a surgical approach (Like Area's 1, 2, & 3). Need to understand cost differences
Requested extending the split rail fence that runs parallel to Rt. 176 along the trail to protect the homes that back into that trail.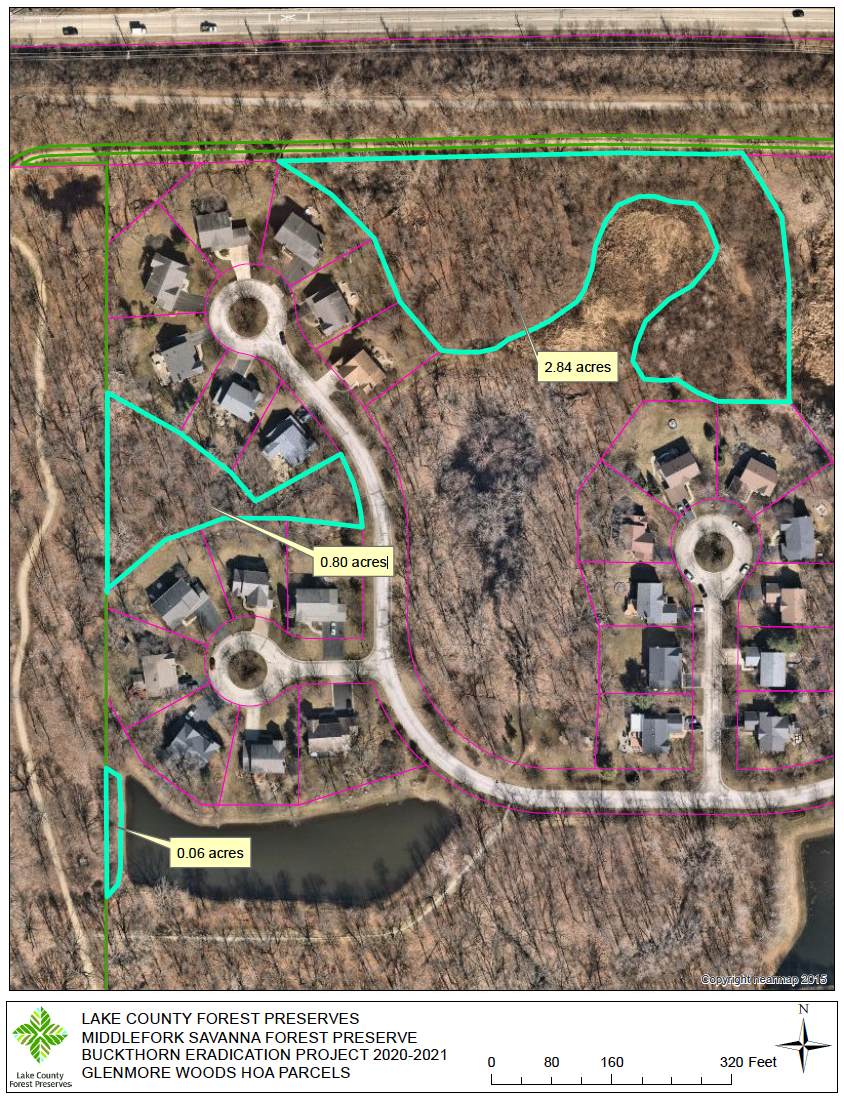 Glenmore Woods Resurfacing Update
Still to be completed

Placement of second/final asphalt layer
Landscape restoration

Driveways

Not all driveway curbs needed to be replaced

The surface course is scheduled to be installed in Glenmore Woods August 12/13 (weather permitting).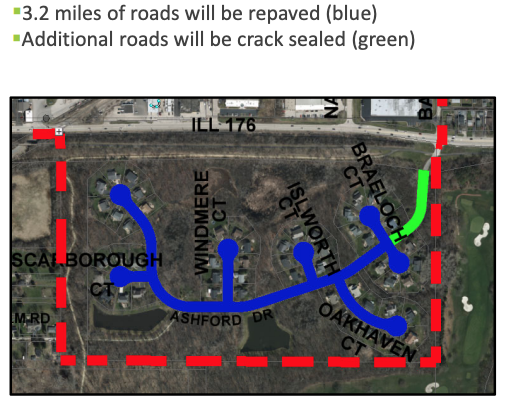 Native Restoration Update
2 Stewardships for Areas 1, 2 &3 (1 Stewardship Completed)
Controlled Burn for Areas 1, 2 &3 (Completed)
2 Herbicide Treatments for Area 4 (1 Treatment Completed)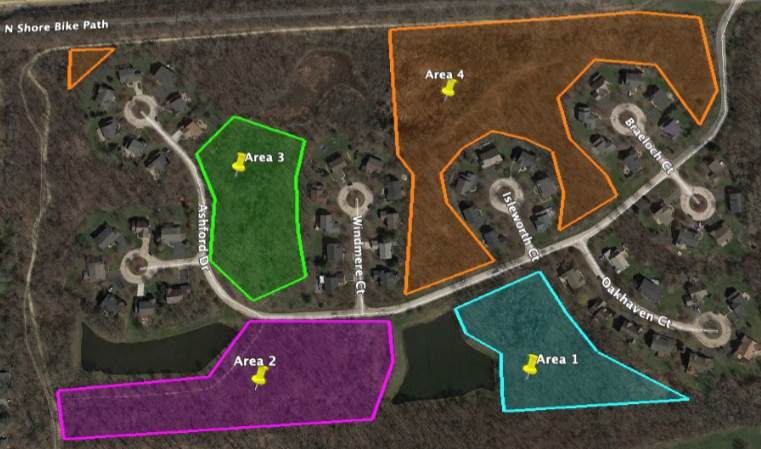 HOA approved French Drain replacement between Isleworth and Windmere Court, which is scheduled to take place the week of August 17th
Ben Metzler, the Village of Green Oaks Engineer came to look at the failed French Drain and said he would look for the plans in Glenmore Woods that might locate other planned French Drains that were constructed in the development, so that the HOA can see if other are in need of remediation, such as the one between Isleworth and Braeloch.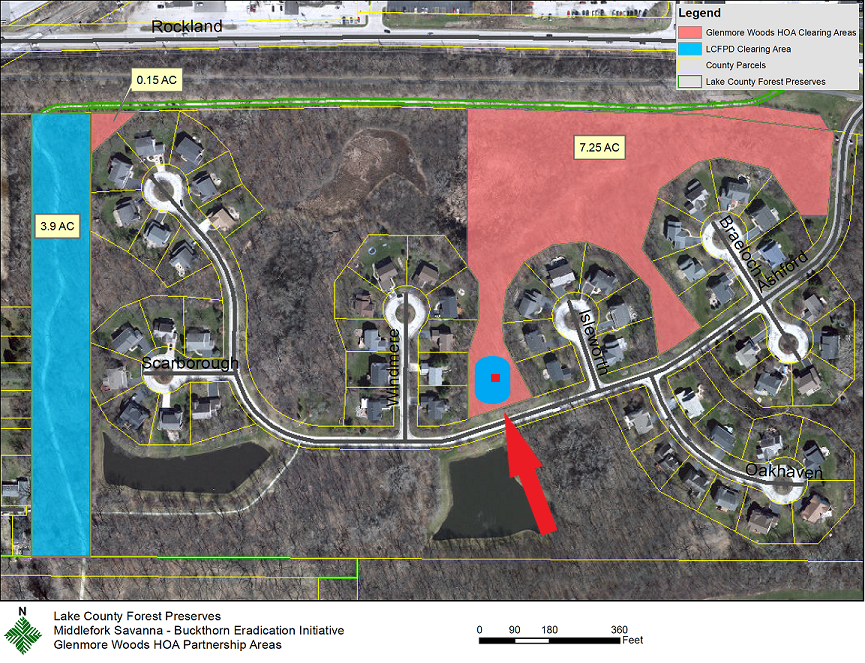 Knollwood Drainage Update
There is no update as Justin is working to get in touch with Village officials after the meeting.
Exterior Project Approval Process
Section 9.01 Board Approvals of All Exterior Matters
Dwelling Unit, accessory structures, additions thereto, nor any other exterior aspect of Residential Lot (including, without limitation, any dog run, porch, patio, deck, driveway, or service walk), nor any construction, installation or location of any structure or improvement which is, pursuant to this Declaration, permitted in the Common Area surrounding a Residential Lot (such as driveways, service walks, mailboxes, landscaping, air conditioning compressors, overhangs, eaves, gutters, and downspouts, or basement area window wells), whether original or replacement, temporary or permanent, shall be constructed, altered, restored, added to, located, remodeled- on the exterior (including the painting or staining of any exterior surface), placed, installed or permitted without, in each and every instance, the prior written approval of the Area Board which approval (hereinafter called "Architectural Approval") shall be obtained in the manner hereinafter set forth. The purpose of requiring Architectural Approval is to preserve the architectural and aesthetic appearance of the Premises, to protect the value of the property of all Residential Lot Owners, and to maintain and protect the ecological balance and stability of the Common Area.
The form is on the website www.glenmorewoods.org. There is a menu item at the top called "Exterior Project Approval Form", or you can go directly to the link: www.glenmorewoods.org/index.php/exterior-project-approval-form

Complete this form and attach any of the following applicable items.
Submit a copy of the plat of survey of your lot with the layout of the proposed work.
Submit a description of the proposed work to be accomplished. Including if applicable any conceptual drawings, plans or landscape designs.
Submit this form and required documentation to the architectural committee/board for consideration and approval. Note that this should be done at least 30 days prior to the proposed start date.
Obtain any Village or other governmental permits as required by law.
The suggestion was made to consider bringing in a chipper on a November weekend where a coordinated trimming of overgrown trees on properties and common areas by homeowners and the chipper will drive through the neighborhood and dispose of branches. Jennifer Koenig will coordinate getting quotes.
A question was asked when the Lake County Forest Preserve Tree and Shrub pickup is scheduled. JoeS to check with Matt Ueltzen.
A suggested was made to consider a future project for prioritization to replace or repair the path around the second pond leading to the Middlefork Savanna Forest Preserve path, maybe consider matching the path with the crushed limestone that is present on the Middlefork path. The HOA board will put this in consideration for future projects. 
A question was asked if the HOA is considering improvements to the common area shrubs. Joe S met with Chris at Mariani and walked the property. We have received rough estimates from Mariani for consideration in budgeting for 2021.
Date for the next meeting
October 12 at 7:30 pm and it will be virtual.
Motion to adjourn: Martin
Seconded by Roy
Meeting adjourned at 8:00 pm