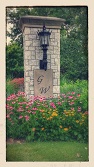 Glenmore Woods 2016 AGM
Glenmore Woods Home Owners Association meeting was held on April 5, 2016 at 7:00pm . The meeting was at the Mariani offices at 900 North Shore Drive, Lake Bluff, IL 60044. The meeting lasted 60 minutes. The minutes from the meeting follow.
Glenmore Woods Homeowners Association
Native Restoration  - Ryan Stanley

Buckthorn Remediation Status for Area 2 and Area 3
Schedule for the remainder of 2016
Questions

Brickman - Phil Megginson

Introductions
Landscape schedule for 2016
Questions

Minutes for 2015 AGM approval
Board members: Re-election for Joe Sturonas, Sue Ebert
Review Budget for 2016
Snow Plowing this winter
Pond Maintenance Status: McCloud/Environmental Technology
Proposals for projects in 2016
Open forum
Date for the next meeting
Board Members: Sue Ebert, Bruce Watts, John Lucas, Joe Sturonas
Property Manager: Sarah McMaster
Guests: Ryan Stanley (Native Restoration), Larry McCotter (Native Restoration), Phil Megginson (Brickman)
Homeowners: Martin Caldwell, Justin Berger, James Proesel, Jeff Koenig, Mary Sweitzer, Tim Cummins, Lauren James, Roy Ladd
Native Restorations, Ryan Stanley and Larry McCotter
Ryan Stanley and Larry McCotter presented to Glenmore Woods HOA on the execution of the process of eradicating all the buckthorn and other invasive species on the Glenmore Woods property in areas 2 and 3.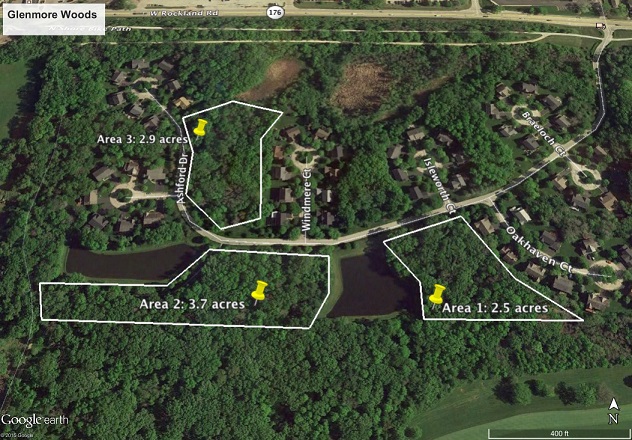 Clearing: Currently 90% complete with Area 2 and 60% complete with Area 3 for clearing the sites of all invasive trees and shrubs. Because these sites that have not been managed over the years they have woody invasive growth, most commonly buckthorn and honeysuckle, shading out the herbaceous layer. These species both block out sunlight, which does not allow any other plants or trees to grow, as well as become so dense that it renders the area unusable.
The method of clearing is being done mechanically with chainsaws and brush saws and each stump is treated with an appropriate herbicide, effectively killing it. Following cutting, the debris has been burned on site, in brush piles. Clearing in this manner has effectively removed unwanted trees and shrubs while minimally impacting the site itself. This clearing will be completed in April.
Stewardship: Stewardship is the process of maintaining a natural area over time. This is an ongoing process that will always be necessary for the long-term health of your natural areas. Stewardship encompasses cutting, pulling and herbiciding services to ensure that your natural areas remain in good condition.  As time goes on, and burning and seeding become effective, the amount of time need to steward a site will diminish. 
Stewardship is performed in the Spring/Summer, 5 times a year for the first year. Typically 3 times a year in subsequent years.
Controlled Burn: Prescribed burning can be one of the single most effective/economic tools of restoration. Native species evolved with regular fire events while newly arrived invasive weed species have not. Fire helps the native vegetation thrive while killing or suppressing many invasive weed species. The controlled burn would be scheduled the fall after the clearing.
Seeding: Planting new native grasses and flowers will invigorate your woodlands and fill in areas that are currently bare. We will broadcast a special native woodland/savanna mix tailored to your sites specific light, moisture and soil conditions. An important caveat with any native seeding is the fact that native plants are primarily perennials that, when young, spend most of their energy establishing a deep root system that will enable the plant to survive summer drought and a long cold winter. Grasses mature more quickly, but forbs may take from 2 to 4 years to mature and flower. Patience is essential! Chickory and Queen Anne's lace are examples of native noninvasive plants. Seeding would occur in the Fall/Winter after clearing has been completed.
A question was asked about Ash trees. Larry said that the little Ash trees have been immune to the emerald Ash borer, because they go after the big ash trees. All the big Ash trees are gone, so it remains to be seen if the little Ash trees will continue to be immune, or if the emerald ash borers will now find food in the little ash trees. Good replacements for ash trees are the Burr Oak or Swamp White Oak. 
Brickman - Phil Megginson
Phil announced that Brickman and ValleyCrest, the two largest landscaping companies in the country, have merged and are rebranding as BrightView. He said that we will continue to see Brickman and ValleyCrest vehicles in the neighborhood, until the rebranding exercise can be completed over time. 
We mentioned that our landscaping was previously done on Friday's, and Phil said they would find a day that is close to Friday. He said their crew works four, ten hour work days, so they can keep Friday open as a catch up day. 
Phil mentioned that they completed spring cleaning as of April 5. On the 3rd week of April, they will start with the moving. Fertilizations will be coming and they will let us know when that is planned in advance. 
We mentioned that there have been complaints that edging was taking too much of the lawn and increasing the beds, but that does not seem to be the case this year with BrightView. They use spade edging and not a machine for 70% of the time, and 30% of the time they use a machine.
If homeowners have any special requests, they should email McMaster Drake and let them know our your address and your request. Examples of requests might be, please don't fertilize the vegetable gardens, avoid the back areas when they are wet, etc. 
Brickman will be aerating in the fall. They will provide a schedule we can publish on the website very soon.  
Minutes for 2015 AGM approval
Joe Sturonas motioned for approval of the 2015 AGM minutes, John Lucas and Bruce Watts seconded. No one opposed. 
Board members: Re-election for Joe Sturonas, Sue Ebert
John Lucas motioned for Joe Sturonas and Sue Ebert to be re-elected. Bruce Watts second, no one opposed. 
Reviewed the budget, and a few questions came up. 
Joe Sturonas mentioned that there were two street lights out, and it has been about 4 years since we replaced all the street lights. It is more cost efficient to replace all the lights, whether they are burned out or not, as opposed to replacing the lights as they burn out. Other questions came up regarding an alternative to incandescent light bulbs, deflectors in the street lights for less light pollution, and potential solar options. Sarah has the action item to follow up on Street Light alternatives and will get back to the board members.  
The question as asked as to what the scavenger line item represented, and Sarah explained that was garbage collection. 
Joe Sturonas motioned for the 2016 budget to be approved, John Lucas and Bruce Watts second, no one opposed. 
Home owners cited that while it was a very mild winter, when it did snow, the snow plows were going way too fast in the neighborhood. Also that the acceleration lane on Rt. 176 was not adequately plowed. 
Sarah has the action item to notify the Village of Green Oaks that homeowners observed the snow plows driving excessively fast in the neighborhood. She will also follow up with the state representative regarding the  Route 176 on the acceleration lane. 
Pond Maintenance Status: McCloud/Environmental Technology
In prior years, we have used McCloud, but given the complaints over the years regarding pond maintenance from homeowners, we are going to try Environmental Technology for pond maintenance. Environmental Technology will start in April, whereas in the past, McCloud started in May. 
Proposals for projects in 2016
Continued Buckthorn eradication
Sarah to contact the Village of Green Oaks regarding the pervasive pot hole issue in the neighborhood after Joe Sturonas documents where the problem areas are at. 
Sarah to investigate where the inventory for the tagged trees might be located, starting with Bartlett.  
Lauren James and John Lucas to investigate possible annexation.