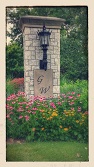 Glenmore Woods Home Owners Association meeting was held on October 26, 2015 at 7:00pm at 900 North Shore Drive, Lake Bluff, IL 60044. The meeting lasted on hour and fifty minutes.  The meeting agenda was as follows
Agenda
Guest Speaker: Ryan Stanley and Larry McCotter from Native Restoration Services, Inc. on Buckthorn eradication.
Discuss Buckthorn eradication proposal
Mariani swale explanation
Discuss landscape proposals
Discuss proposal for assessment increase
Any open issues
Date for the next meeting
Board Members: Bruce Watts, Joe Sturonas
Property Manager: Sarah McMaster
Homeowners: Mary Sweitzer, Sue Ebert
Presentation by Native Restoration Services on Buckthorn eradication.
Ryan Stanley and Larry McCotter presented to Glenmore Woods HOA on the proposal they created on how Glenmore Woods could begin the process of eradicating all the buckthorn and other invasive species on the Glenmore Woods property, and restore it to the native species, similar to what has been done in the Middlefork Savanah.
We are initially looking at three areas in Glenmore Woods to start with. These are identified as areas 1, 2 & 3.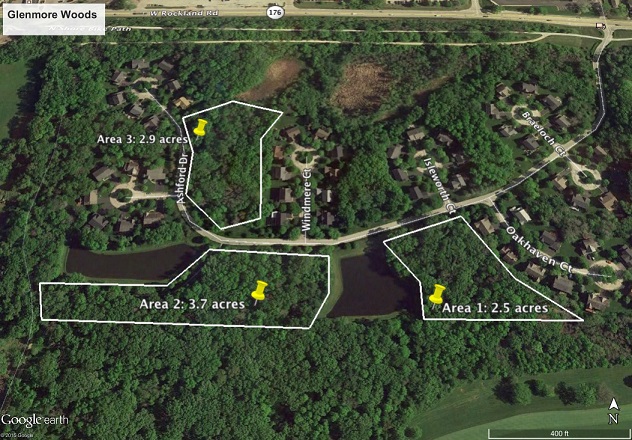 Each area would treated by four phases outlined below. We selected the following sites as potential areas because due to the atheistic appeal it could bring, as well as the safety implications especially for areas 2 and 3. The safety implications are noted due to the lack of illumination at night due to the over growth of buckthorn blocking illumination from street lights and homes.
Clearing: Clearing a site of all invasive trees and shrubs is almost always the first step to restoring a site. Sites that have not been managed over the years will always have woody invasive growth, most commonly buckthorn and honeysuckle, shading out the herbaceous layer. These species both block out sunlight, which does not allow any other plants or trees to grow, as well as become so dense that it renders the area unusable.
There are a few different methods to clearing a site of unwanted trees and shrubs. One of these is using a forestry mower. Although this method may seem economical up front, we believe that the long-term damage this method does to a site is significant. A forestry mower demolishes all trees and shrubs in its path. Shattered stumps are covered up by wood shards, making it nearly impossible to herbicide stumps, which is crucial to ensure that trees do not resprout. All debris is left on site which creates a thick layer of debris, forming a barrier blocking sunlight from hitting the soil and causing subsequent controlled burns to burn excessively hot. All of these actions are counterproductive to the restoration process. It is Native Restoration Services' (NRS) opinion that all clearing should be done mechanically with chainsaws and brush saws and that each stump should be treated with an appropriate herbicide, effectively killing it. Following cutting, debris will be burned on site, in brush piles. Clearing in this manner will effectively control and get rid of unwanted trees and shrubs while minimally impacting the site itself. This would be done in the winter between November and March.
Stewardship: Stewardship is the process of maintaining a natural area over time. This is an ongoing process that will always be necessary for the long-term health of your natural areas. Stewardship encompasses cutting, pulling and herbiciding services to ensure that your natural areas remain in good condition. There will always be unwanted weeds in and around natural areas; however, keeping them at bay is possible. In the early years of restoration, this will be a time consuming and daunting process. As time goes on, and burning and seeding become effective, the amount of time need to steward a site will diminish. It is crucial that the people performing these tasks are trained to distinguish between native and alien plants and that all personnel involved in herbicide activities do so safely and legally.
We will provide cutting, pulling and herbiciding services to ensure that your natural areas remain in good condition. Our employees are trained to distinguish between native and alien plants and all personnel performing herbicide activities possess an Illinois Herbicide Operator or Applicator license. Stewardship is performed in the Spring/Summer, 5 times a year for the first year. Typically 3 times a year in subsequent years.
Controlled Burn: Prescribed burning can be one of the single most effective/economic tools of restoration. Native species evolved with regular fire events while newly arrived invasive weed species have not. Fire helps the native vegetation thrive while killing or suppressing many invasive weed species. Timing is everything with burns. There are typically two burn seasons every year, spring and fall. These are the times of the year when weather conditions are most favorable to prescribed burning. Woodland/Savannas are typically burned in fall and prairies in the spring; however, this rule is not set in stone. With uncertainty of when the weather will be appropriate for burning, we encourage you to complete burns whenever possible, spring or fall.
Fire can also be a very dangerous restoration tool. A prescribed burn should always be supervised by a prescribed burn manager and completed by experienced personnel. Proper equipment is crucial in keeping a fire under control and putting a fire out when necessary. Wind speed, wind direction, temperature and humidity should always be monitored before and during a prescribed burn. Necessary burn breaks must be in place to prevent the fire from spreading. Fuel (leaves and grasses) should be removed from around desirable trees and shrubs and also away from any potential hazards i.e. downed trees, woodchip, brush piles, electrical wires, etc… Proper permits, signage, PPE and notification should always be obtained prior to any burning activities.
Our burn crew personnel are graduates of the Chicago Wilderness Midwest Ecological Prescription Burn training program. Led by an Illinois Certified Burn Manager, our crew leaders have more than three decades experience performing prescribed burns throughout the Chicago region. Native Restoration Services carries $2,000,000 in liability insurance specifically covering prescribed burn activities. We will secure all necessary permits for this work, notify neighbors and post roadway signs during the burn. The controlled burn would be scheduled the fall after the clearing.
Seeding: Planting new native grasses and flowers will invigorate your woodlands and fill in areas that are currently bare. We will broadcast a special native woodland/savanna mix tailored to your sites specific light, moisture and soil conditions. An important caveat with any native seeding is the fact that native plants are primarily perennials that, when young, spend most of their energy establishing a deep root system that will enable the plant to survive summer drought and a long cold winter. Grasses mature more quickly, but forbs may take from 2 to 4 years to mature and flower. Patience is essential! Chickory and Queen Anne's lace are examples of native noninvasive plants. Seeding would occur in the Fall/Winter after clearing has been completed.
Reigate Woods is a good example of what native restoration can look like in a Homeowners Association like Glenmore Woods. Native Restorations highly recommends the book Miracle under the oaks to describe the native restoration process.
After Ryan and Larry finished the presentation and answering lots of questions, they excused themselves. 
Discuss Buckthorn eradication proposal
When then discussed the Buckthorn eradication proposal. We reviewed the costs of each of the areas. We currently have budget for clearing Area's 2 & 3 this year. Area's 2 & 3 have a higher priority around safety and would sufficiently provide the aesthetic appeal to get homeowners familiar with the beautification of the cleared areas. These trees in these areas are also suffering the most significantly, as over a dozen trees have died in Area 3 over the last 10 years.
There will be another meeting to discuss the steps to move forward on the buckthorn eradication of Area's 2 & 3. 
Mariani swale explanation
As a follow up to an item that occurred at the last meeting, Mariani inspected the work that was performed on the swale leading from the culvert to the source of water in Area 3. Marinai agreed that this work was not performed to the specification in the proposal, and they came back to fulfill the work outlined in the proposal, which was completed in the 3rd week of October 2015. Mariani actually exceeded the proposal outline and provided very adequate swale which will hopefully now provide drainage from Area 3.
Discuss landscape proposals
We reviewed the 3 landscaping proposals from 3 different landscaping companies, as our current landscaping contract expires at the end of this year. We suggested a few follow up questions on the proposals that Sarah will follow up on with each of the vendors, and based on the feedback from those session, we will be able to make a decision on the landscaping proposal we would like to choose at the next meeting.
Discuss proposal for assessment increase
We discussed our current financial situation. While we have finally achieved our goal of having a year of operating income in reserve, but we have not raised the month assessment in roughly 8 years. Based on the cost of the new landscaping proposal and buckthorn eradication, it might be necessary to raise monthly assessments at the beginning of next year. We will now more at the next meeting after we have made a decision on the landscaping contract.
Sarah would like to request that homeowners that are currently not on automatic withdrawal for monthly assessments, be converted to email (or convert to automatic withdrawal). This will save Glenmore Woods $300/year in postal mailings.
Board will follow up on the status of the Village of Green Oaks roads referendum.
Homeowners commented that the snow plowing that was done last year was much better than in previous years.
Date for the next meeting
Board members will discuss the best time for the next meeting when all board members can be present.