Glenmore Woods August 19, 2014 Meeting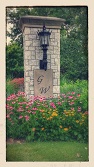 Glenmore Woods Homeowners Association
Meeting - August 19, 2014 7:00pm 
Board members: John Lucas, David Coughlin, Bruce Watts, Joe Sturonas
Homeowners: none present
Mariani Offices
900 North Shore Drive, Lake Bluff, IL 60044
 Agenda
Review Imprelis decision and remediation

Review pond drainage issues

Review noise from International Precision Components Corporation, Plant 2 at 28251 N Ballard Drive, Lake Forest, IL

Review status from the village on the storm sewer drainage issues on Windmere

Review status from Mariani regarding the exposed tree roots

Date for the next meeting

Meeting convened at 7:00pm
Review Imprelis decision and remediation
Board members agreed to move forward with the Mariani proposal ahead of the DuPont payout so the trees can be replaced during the growing season. 
Review pond drainage issues
Sarah reported the pipe between the two ponds was cleared out a second time and pond levels remain nominal.
Review noise from International Precision Components Corporation, Plant 2 at 28251 N Ballard Drive, Lake Forest, IL
The noise at IPCC is continuing to persists. Bruce and Joe will document noise levels at the origin and provide documentation to Glenmore Woods attorney.
Review status from the village on the storm sewer drainage issues on Windmere
No update on this item. Sarah to follow up with Ben. 
Review status from Mariani regarding the exposed tree roots
No update on this item, Sarah to follow up with Mariani. 
Open discussion for new items
Review with Sarah what HOA information is given to new homeowners. 

Request a calendar from Maraini for all planned work in our subdivision for the balance of the calendar year, in addition to 2015. 
Meeting adjourned at 7:30pm.  
Addendum:
Board members voted to proceed with Emerald Ash Borer treatment from Bartlett.